From
SFX Magazine
:
(Please follow the link for the complete SFX Magazine interview and to view the video clip -- from the episode "Dungeons and Dragons".)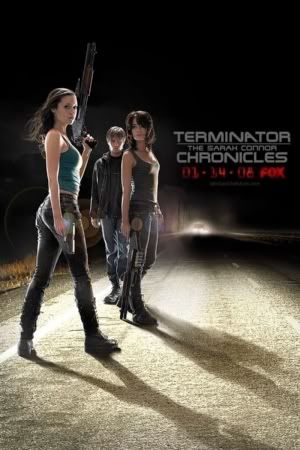 Wednesday August 13, 2008
Exclusive Summer Glau interview
The Sarah Connor Chronicles
– the TV spin-off of the Terminator films – has been a huge hit in the US and the UK, and a second series is being produced right now. But if you can't wait for that, then the DVD of season one is now out on DVD from Warner Home Video, for £29.99. And here we have an exclusive interview with
Summer Glau
, who plays cyborg Cameron in the series.
What attracted you to the role of Cameron Phillips, a robot?
Summer Glau: Josh Friedman, the creator of the show. I never thought I would be able to play this role until I talked to him about it and got his point of view on a different kind of terminator. But I'd wanted to work with him for a long time, he's a great director too and he directed some of the episodes.
It must be a challenge as an actor to play a robot. How did you find that?
Summer Glau: Well, I was lost in the beginning because in my work so far I've played really vulnerable characters. Really raw and emotional, that's what comes naturally to me. So I was worried about making a robot relatable and I wanted people to care about her and be able to put themselves in her place because that's what we all do when we watch TV.

But Josh's idea for a Terminator was different – in the movies, Terminator's evolve and become more advanced and sophisticated, you have the ones that liquefy, others that shape-shift. That's cool, but for TV and for a character with longevity, Josh had the idea of making her more advanced because of her human characteristics. Instead of shape-shifting and knives coming out of her fingers, it was much more interesting that she could appear so human...
**snippage**
And as an extra treat, there's a clip from the episode "Dungeons and Dragons" (at the link above.)