A press release from
Yahoo Financial News
:
(Please follow the link for the complete article.)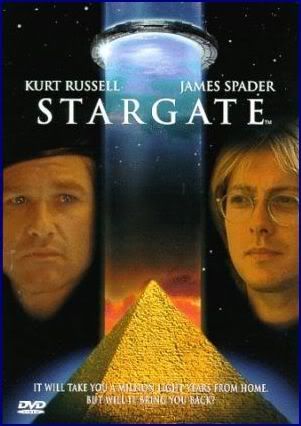 Press Release Source: Starz Entertainment

Starz Entertainment's Weekly Hot Items List August 25-31
Thursday August 14, 2:50 pm ET
http://starz.mediaroom.com/
(All times listed are ET/PT.)
Friday, August 29

Sci-Fi Invasion
A four-day movie marathon of science fiction flicks on Encore over Labor Day weekend.
Friday, Aug. 29
-- 8 p.m. The Terminator (Arnold Schwarzenegger, Linda Hamilton,
Michael Biehn)
-- 9:50 p.m. Independence Day (Will Smith, Bill Pullman, Jeff Goldblum)
Saturday, Aug. 30
-- 12:20 a.m. Waterworld (Kevin Costner, Dennis Hopper, Jeanne
Tripplehorn)
-- 2:40 a.m. Mad Max (Mel Gibson, Joanne Samuel, Hugh Keays-Byrne)
-- 4:20 a.m. Repo Man (Emilio Estevez, Harry Dean Stanton, Tracey
Walter)
-- 6 a.m. Invasion of the Body Snatchers (Donald Sutherland, Brooke
Adams, Leonard Nimoy)
-- 8 a.m. Mimic 3: Sentinel (Karl Geary, Alexis Dziena, Rebecca Mader)
-- 9:20 a.m. Tank Girl (Lori Petty, Malcolm McDowell, Ice-T)
-- 11:10 a.m. John Carpenter's They Live (Roddy Piper, Keith David, Meg Foster)
-- 12:50 p.m. Universal Soldier (Jean-Claude Van Damme, Dolph Lundgren, Ally Walker)
-- 2:35 p.m. Stargate (Kurt Russell, James Spader, Jaye Davidson)
-- 4:40 p.m. Mad Max (Mel Gibson, Joanne Samuel, Hugh Keays-Byrne)
-- 6:15 p.m. Judge Dredd (Sylvester Stallone, Armand Assante, Diane
Lane)
-- 8 p.m. Alien (Tom Skerritt, Sigourney Weaver, John Hurt)
-- 10 p.m. Aliens (Sigourney Weaver, Carrie Henn, Michael Biehn)
Sunday, Aug. 31
-- 12:20 a.m. The One (Jet Li, Carla Gugino, Delroy Lindo)
-- 1:50 a.m. Robocop 3 (Robert John Burke, Nancy Allen, Rip Torn)
-- 3:45 a.m. The Adventures of Buckaroo Banzai Across the Eighth
Dimension (Peter Weller, John Lithgow, Ellen Barkin)
-- 5:35 a.m. Deep Rising (Treat Williams, Famke Janssen, Anthony Heald)
-- 7:30 a.m. Screamers (Peter Weller, Roy Dupuis, Charles Powell)
-- 9:30 a.m. The Terminator (Arnold Schwarzenegger, Linda Hamilton,
Michael Biehn)
-- 11:30 a.m. Robocop (Peter Weller, Nancy Allen, Ronny Cox)
-- 1:15 p.m. Robocop 2 (Peter Weller, Nancy Allen, Dan O'Herlihy)
-- 3:15 p.m. Deja Vu (Denzel Washington, Val Kilmer, Adam Goldberg)
-- 5:30 p.m. The Abyss (Ed Harris, Mary Elizabeth Mastrantonio, Michael Biehn)
-- 8 p.m. Contact (Jodie Foster, Matthew McConaughey, James Woods)
-- 10:30 p.m. The Faculty (Jordana Brewster, Clea Duvall, Laura Harris)
Monday, Sept. 1
-- 12:20 a.m. Mars Attacks! (Jack Nicholson, Glenn Close, Annette
Bening)
-- 2:15 a.m. Alien 3 (Sigourney Weaver, Charles S. Dutton, Charles
Dance)
-- 4:15 a.m. John Carpenter's Village of the Damned (Christopher Reeve, Kirstie Alley, Linda Kozlowski)
-- 6 a.m. Mission to Mars (Tim Robbins, Gary Sinise, Don Cheadle)
-- 8 a.m. The One (Jet Li, Carla Gugino, Delroy Lindo)
-- 9:30 a.m. Deja Vu (Denzel Washington, Val Kilmer, Adam Goldberg)
-- 11:40 a.m. Waterworld (Kevin Costner, Dennis Hopper, Jeanne
Tripplehorn)
-- 2 p.m. Independence Day (Will Smith, Bill Pullman, Jeff Goldblum)
-- 4:30 p.m. Mars Attacks! (Jack Nicholson, Glenn Close, Annette
Bening)
-- 6:20 p.m. Tremors (Kevin Bacon, Fred Ward, Finn Carter)
-- 8 p.m. Stargate (Kurt Russell, James Spader, Jaye Davidson)