At
NBCUMV
:
'BATTLESTAR GALACTICA'S' ELITE CYLON RAIDER NOW AVAILABLE AS BEAUTIFULLY-CRAFTED REPLICA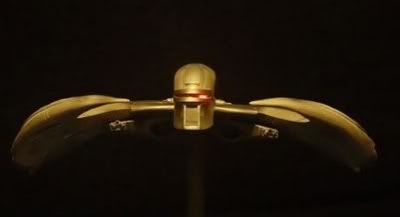 Published: September 24, 2008
Fifteen Inch Scale Replica Based On The Emmy Award-Winning SCI FI Channel Original Series Retails For $949.95 and is Available To Order Online Starting September 28
UNIVERSAL CITY, Calif. - September 24, 2008 - NBC Universal Television, DVD, Music and Consumer Products Group announced today that "
Battlestar Galactica's
" famed Cylon Raider Tactical Fighter is now available as a beautifully-crafted, scale replica. The announcement was made by Kim Niemi, Senior Vice President, NBC Universal. Developed by
Quantum Mechanix
through a licensing agreement with NBC Universal, the Cylon Raider replicas will be available online at
http://www.scifichannelstore.com
and will retail for $949.95.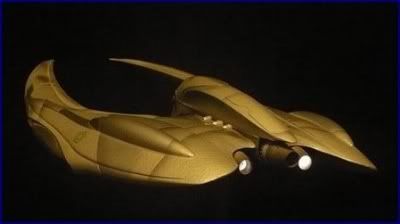 Measuring fifteen inches long by nine inches wide, these handsome artisan Cylon Raider replicas are based on a computer-generated model and have been designed by Quantum Mechanix, They are assembled and painted at renown special effects company "The FX Company," which is based in Ocala, Florida. Only 500 of these artisan replicas exist and each will contain a unique brass plaque signed by either "
Battlestar Galactica
" executive producers
Ronald D. Moore
and
David Eick
, director
Michael Rymer
or one of the cast members including
Jamie Bamber
("Lee 'Apollo' Adama"),
James Callis
("Gaius Baltar"),
Tricia Helfer
("Number Six"),
Michael Hogan
("Colonel Saul Tigh"),
Edward James Olmos
("Admiral William Adama"),
Grace Park
("Sharon 'Athena' Agathon"/ "Sharon 'Boomer' Valerii") or
Katee Sackhoff
("Kara 'Starbuck' Thrace").
"Quantum Mechanix and The FX Company have created an amazing replica," said Kim Niemi. "The incredible attention to detail in these beautifully-crafted collectibles is sure to delight 'Battlestar Galactica' fans around the world."
"As a huge fan of the science fiction genre and 'Battlestar Galactica' especially, I am really pleased to be able to bring these Cylon Raiders to life," said Andy Gore, President of Quantum Mechanix. "'Battlestar Galactica' has a loyal following and we know that fans of the series and collectors alike will be thrilled with this particular replica."
The "
Battlestar Galactica
" Cylon Raider measures 15 x 9.5 x 3 inches long, with a total display height of 7 inches. These film quality Raider Ships boast several layers of vivid, prismatic and iridescent metallic paint, which changes hue depending on how it picks up the light. The ships feature custom electronics with light displays including the scanning/sweeping red LED "eye" lights and flaring white engine lights. The Raider's lighting system runs on a 12 volt transformer. The Cylon Raiders are available for order beginning September 28, 2008 at
http://www.scifichannelstore.com
.
~~**~~**
Quantum Mechanix
Image Gallery