At
SFX Magazine
:
(Please follow the link for the complete interview.)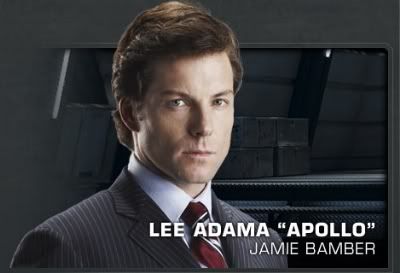 Jamie Bamber interview on BSG season four
Monday October 06, 2008
As we all gibber with excitement about the final part of
Battlestar Galactica's
fourth season, due on our screens at the start of 2009, SFX was able to catch up with star
Jamie Bamber
who plays Lee "Apollo" Adama. We were able to quiz him about the first 10 episodes of the final series, which aired earlier this year (out this week on DVD), and about what lies in store at the end of the journey...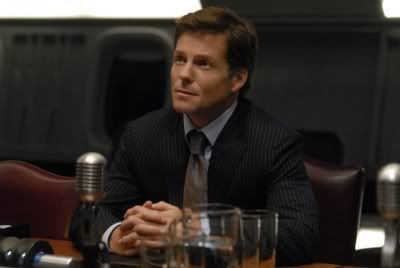 SFX: You've just finished filming the last part of season four, the end of Battlestar Galactica. Were there any plot twists this year that really wrong-footed you?
Jamie Bamber: "Well, when there's a good plot twist on our show and you're wrong-footed that's when the show is right! So yes, in this season: absolutely. The ending didn't wrong-foot me really in terms of the plot, but in terms of the way it's delivered I was gobsmacked. Ron [D Moore] wrote these scripts on his own, independently of the writers room and the whole process, and the turn of it wrong-footed me absolutely. The ending I really got because Ron is a friend and we'd been bashing out ideas, so I got a piece of his mind; it's only because I had a front seat that I could really figure the ending. I don't think anybody else will. That will be a wrong-footing for the viewing fans!"
... The DVD box set of the first 10 episodes of season four are available on DVD imminently. You can find out more news about
Battlestar Galactica's
future in SFX issue 176, on sale Wednesday 22 October.