At
SciFi Weekly
:
(Please follow the link for the complete interview.)
INTERVIEWS
October 06, 2008
Jason O'Mara and company travel back in time—or do they?—to import (and remake) the British hit Life on Mars
By Mike Szymanski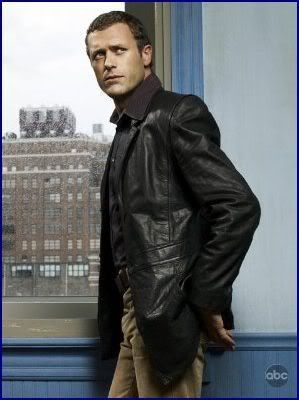 Detective Sam Tyler wakes up in 1973 after suffering a car accident. He's not sure how he got there, or why he is there, but he knows that he can fight crime and solve mysteries with the knowledge he carries over from the 21st century.
Life on Mars
originated in the United Kingdom, but the American version is updated and set in New York. Tyler is played by
Jason O'Mara
(
Resident Evil: Extinction
), and his Manhattan counterpart is played by
Michael Imperioli
, with
Harvey Keitel
also in the cast.
O'Mara, Imperioli and executive producers
Josh Appelbaum
and
Andre Nemec
gave interviews at the Beverly Hilton Hotel at the same time that they were working on the pilot episode of the show, which airs this fall on ABC-TV.
A brief excerpt:
Do the same characters exist from the original pilot?
O'Mara: I'm the only survivor from the original pilot. Call it Irish luck. But I think a lot of fans of the British show will be happy to see that Ray and Chris are in the script. They're back. I think we wanted Phyllis in the pilot, but there may not be time for Phyllis.
Appelbaum: She'll show up eventually.
Nemec: Annie is certainly in the pilot, and Maya's in the pilot as well. Our goal really was to the BBC series. They did a phenomenal job making that show, and we're very excited to just really be of the spirit of that show into New York in 1973.