At
Clearnet
:
From 11am until 6pm, Saturday October 25th to Monday 27th, this web site will broadcast from the convention. (You'll need to convert local Australian to your local time zone...)
For a complete broadcast schedule, please follow the link.
A few highlights:
Sunday, 26 October
11:30 Andee Frizzell on the couch (Stargate Atlantis)
13:00 Kavan Smith (Stargate Atlantis) Panel (which would be 5pm Saturday on the US West Coast)
14:00 Doug Jones on the couch (Hellboy 1,2)
14:30 Andee Frizzell Panel
16:30 Doug Jones Panel
Monday, 27 October
12:00 Ernie Hudson on couch (Ghostbusters 1,2)
14:30 David Hewlett Panel (which would be 6pm Sunday on the US West Coast)
16:15 Ernie Hudson Panel
For more information on the
convention
.
~~**~~**
I've recently updated to a cable internet connection, and the video and audio are streaming very nicely at this link.
EDITED: Oct 25 @ 19:57: Some screen prints from the Andee Frizzell, Kavan Smith, Gary Jone and David Hewlett panel: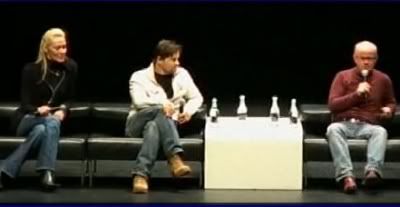 Andee Frizzell (Wraith Queen), Kavan Smith (Maj. Evan Lorne) and Gary Jones (Walter Harriman)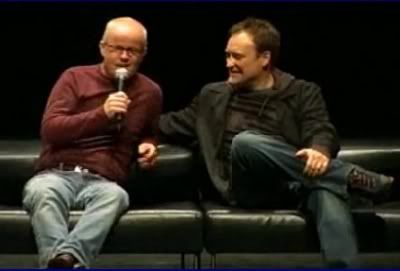 Gary Jones and David Hewlett (Dr. Rodney McKay)