At
Multichannel News
:
(Please follow the link for the complete article. Photo of Amanda Tapping at the site.)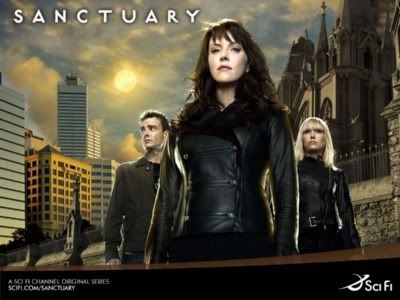 Sci Fi Renews 'Sanctuary'
Network Orders Second Season of Amanda Tapping Series
By Kent Gibbons -- Multichannel News, 11/13/2008 10:49:00 AM
Sci Fi Channel said it greenlit production on a second season of the series
Sanctuary
, starring
Amanda Tapping
.
The NBC Universal-owned network said it ordered an additional 13 hours of the hour-long Friday-night drama, which drew 3 million viewers to its Oct. 3 premiere, the most for a new show on Sci Fi since
Eureka
in 2006. Episodes two through five have averaged 2.2 million total viewers each on their initial airings, according to the channel.
Including the series premiere, it's averaging more than 2.5 million total viewers per episode, with a 1.7 average household rating of 1.7, a 70% improvement over the network's performance in the 10 p.m. Friday timeslot a year ago...