From a Creation Entertainment e-mail announcement: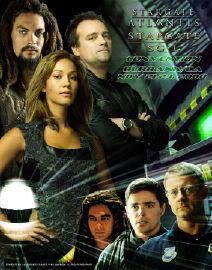 STARGATE BURBANK: ONE WEEK TO GO, UPDATED SCHEDULE
The Official
STARGATE SG-1/ATLANTIS
Convention comes to Burbank, California on November 21-23, 2008. Great tickets still remain, so make your plans to join the celebration: it is going to be fantastic, especially considering we have two conventions going on in the hotel the same weekend. (the other one is for
Firefly/Serenity
)
Click
here
for all the details and ticket info.
Below is the updated schedule now including final guests for the breakfast and dessert parties.
Friday, November 21, 2008
9 pm: Pre-Registration for Gold Patrons only and Opening Night Party (pre-registration is not a necessity, just a convenience if you'd like)
Saturday, November 22, 2008
9am to 11am: Acting Workshop with
Alexis Cruz
, separate admission required, see below. Location to be announced
10:30 am Pre-Registration for Gold Patrons (pre-registration is not a necessity, just a convenience if you'd like)
11:00 am to 11:30 am: Pre-Registration for Preferred Weekend, vendors room opens
11:30 am to Noon: Pre-Registration for All Patrons, vendors room open
Noon to 6 pm: Registration and Vendors Room Open, Programming Opens with guest appearances by
Kavan Smith
,
Alexis Cruz
, and
Dan Shea
8:30 pm: Stargate Cabaret: Some of our guests in performance, included on a complimentary basis for Gold and Preferred Patrons, everyone else can purchase tickets for a nominal fee. Featuring ALEXIS CRUZ (adults only) and DAN SHEA.
10 pm: GOLD WEEKEND PATRONS EXCLUSIVE DESSERT PARTY: Here our Gold Patrons from both conventions being held in the hotel this weekend (Stargate, Firefly/Serenity) get their party on! Tentative guests include Stargate franchise's ALEXIS CRUZ, KAVAN SMITH and DAN SHEA and Firefly/Serenity's RON GLASS and JEWEL STAITE (also from
Stargate Atlantis
). Musical entertainment from Marian Call, courtesy of
QMx
.
Sunday, November 23, 2008
8 am to 9:30 am: Sunday Morning Breakfast exclusive to Gold Weekend Patrons of both events and includes guests from both
Stargate
and
Firefly/Serenity
including
Summer Glau, Gina Torres
, and
Adam Baldwin
of
Firefly/Serenity
and
Stargate Atlantis'
Rachel Lutrell, Jason Momoa and David Hewlett
9:30 am: Registration and vendors room open
10:00 am to 6 pm: Registration, Vendors Room and Programming Begins featuring
Rachell Luttrell, Jason Mamoa
and
David Hewlett
. The plan is to have on stage Jason (30 mins) followed by Rachel, followed by David, followed by all 3 (45 minutes together). This will make a fabulous piece of programming and one of the true highlights of the entire Stargate franchise tour!
BURBANK, CA
Fri., Sat. & Sun. November 21-23, 2008
The Weekend Before Thanksgiving
Burbank Airport Marriott Hotel
2500 Hollywood Way