[NOTE: Stargate Atlantis' 'Identity' airs Dec 12 '08 at 9pm on the SciFi Channel (US)]
At
GateShip One
:
(Please follow the link for the complete interview.)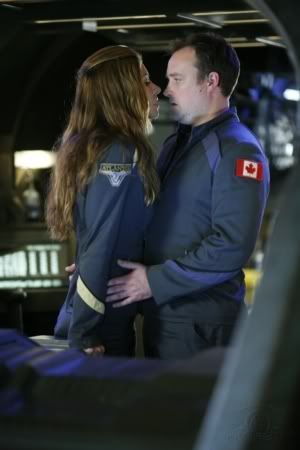 Neeva (Dawn Olivieri) and Dr. Rodney McKay (David Hewlett)
DAWN OLIVIERI INTERVIEW
Interview available in French and English.
A brief excerpt:
What was your first impression when you went on the set of Stargate Atlantis? How could you describe the atmosphere on the set?
What's interesting about my first day on the set is that is was the day after news arrived that the show was to be cancelled :( . As you can imagine, many where sad and distracted by this sudden life-altering news. This however had no bearing on how welcome they made me feel. It was like a big happy family and I was like the little orphan that they welcomed in with open arms. They were hospitable, eccentric, exciting and so talented. I am not exaggerating when I say it is the greatest group of people I have worked with yet.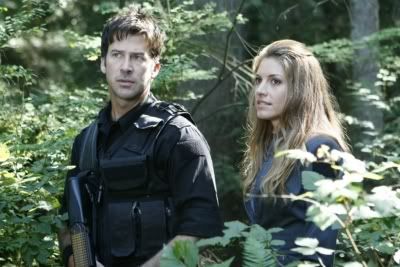 Lt. Col. John Sheppard (Joe Flanigan) and Neeva
With what actors did you spend the most of the time during the shooting? How was it to work with Jewel Staite?
I was shooting for a couple of weeks so I worked different days with a different set of actors. I tend to have a lot a fun with the guys so I hung out with Joe, Jason, Paul, and David because we had the most scenes together. Funny story about Jewel is I was so excited to work with her because I had loved her in the Firefly series and the first day in the trailer I told her. How inspiring for me to admire someone for the work that she did and then get the ability to work with them...or work INSIDE them for that matter :)