At
GateWorld
: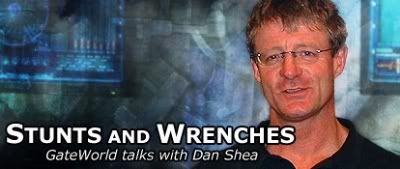 STUNTS AND WRENCHES
GateWorld talks with Dan Shea
Saving the galaxy on a weekly basis can be dangerous work. Sometimes you can't make it through an hour without getting a little roughed up. And for many years, one man has been either getting roughed up or been the one in charge of making sure others do it safely --
Dan She
a.
As both
Richard Dean Anderson's
stunt double and Sergeant "Sly" Siler on-screen, or as SG-1' stunt coordinator off-screen, Shea has been instrumental in making all the fights, explosions and other stunts both fun to watch and harmless to those performing them.
GateWorld sat down with Dan earlier this year at the Creation Entertainment Stargate convention in Vancouver -- and it's the first time we've gotten the chance to talk with him. Due to time constraints, the interview is extremely short. However, in that brief time, Dan opens up about how he got into the stunt business, what brought him into the Stargate franchise, how he wound up in front of the camera as "Siler," and more!
GateWorld's video interview with Dan runs approximately six minutes, and requires QuickTime 7.0 or higher. An interview transcription is available at the link above. The interview is also available at
GateWorld Play
! (Please follow the link to view the video in its original format.)
A brief excerpt:
GW: How did you end up in front of the screen as Siler?
DS: There was just an audition and I remember, I went upstairs, and I started joking around.

Brad [Wright]

was in there, and

Martin Wood

, and I thought, "If you're trying to be funny, they'll like you and give you the part." The problem was, the guy was a computer geek, not funny. And so Greenberg gave me hell.

Michael Greenberg

. He said, "You fool, you have a chance to get this part. What are you doing, you blew it." And I thought I did good because they were laughing. Well, it was a serious role, so he made me go back and do it again, and spew out the techno-jargon, and I got it.