At
GateWorld
: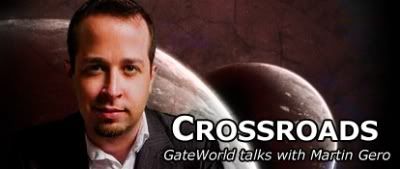 CROSSROADS
GateWorld talks with Martin Gero
We would be hard-pressed to say that
Martin Gero
hasn't been good to us. In the four years since GateWorld has known him he as granted us an extensive interview every year. Now with Season Five coming to a close we are happy to be back with him to go even deeper into the franchise and beyond.
In our latest piece Martin talks about the success of his film "
YPF
," working with the likes of
Bill Nye
and
Neil deGrasse Tyson
in the recent episode "
Brain Storm
," and he even addresses some of the viewer criticisms of his episode. We also explore the McKay/Keller relationship and dip our toes in the waters of
Stargate Universe
.
GateWorld's interview with Martin runs over 43 minutes. Listen online at your leisure, download it to your MP3 player, or subscribe now to the
iTunes
podcast. The full interview is also transcribed [at the
link above]!