At
TV Guide Online
:
(Please follow the link for the complete TV Guide Online interview.)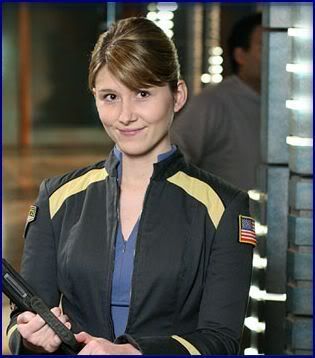 Stargate Atlantis' Jewel Staite on the End of the Show
Dec 4, 2008 11:10 AM ET by Erin Fox
Stargate Atlantis
is coming to an end on Jan. 9, and before Stargate fans blast off into the new Universe series (beginning with a two-hour movie early in 2009), TVGuide.com asked
Jewel Staite
to help us countdown to the end of Atlantis by telling us what it was like to play Dr. Jennifer Keller, who she bonded with most in the cast and much more.
... TVGuide.com: Who did you bond with most in the cast?
Staite: That's a toss up between

David Hewlett

and

Amanda Tapping

(Col. Sam Carter). I think we all have a mutual respect for each other, but we love to tease each other, too. And Amanda's just one of those really likeable people. She's gracious, professional, easy-going, lovely to be around, and besides that, she's really easy to crack up. The three of us did an episode together in season four called

Trio

that involved us and a filthy, dusty room that was rigged to tilt and shake. It should have been a miserable week, but I've never laughed so hard. I think the crew was starting to get a little fed up with us because we ruined so many takes, but it was one of the most fun weeks I've ever had on the job.