At
SciFi Wire
: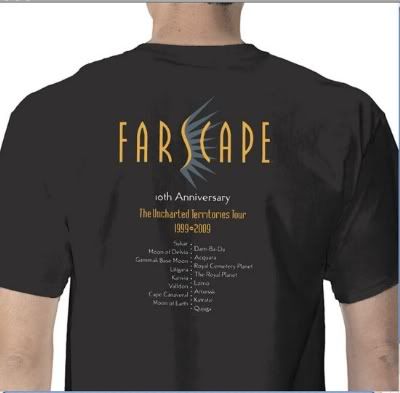 Jim Henson Co. selling 10th anniversary Farscape t-shirts today only
By SCI FI Wire Staff
ON 03/19/09
Farscape
premiered in the U.S. 10 years ago today, and to celebrate the 10th anniversary of astronaut John Crichton's accidental trip through a wormhole, the Jim Henson Co. is selling a limited-edition
Farscape
commemorative t-shirt—today only.
The front of the t-shirt is printed with Crichton's invitation to "share the wonders I've seen," as spoken during each episode's credit sequence, while the back is emblazoned with "The Uncharted Territories Tour," listing all of the cosmic sites visited during Farscape's run.
The shirts are $18 each, and are available for purchase just for today through
http://www.zazzle.com/
.