At the
SciFi Guys
: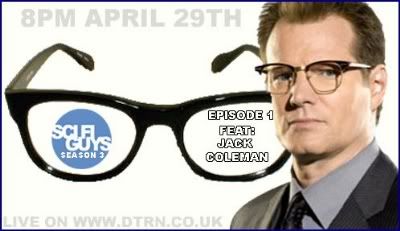 THE SCI FI GUYS RETURN WITH A HERO ON WEDNESDAY 29TH APRIL!
DTRN is proud to announce the return of its flagship show, The Sci Fi Guys, for its 3rd season on Wednesday April 29th from 8pm (In association with Memorabilia) with special guest,
Jack Coleman
, Noah Bennett from
Heroes
!!
Jack Coleman
who will also be familiar to fans of 80's television hit
Dynasty
, in which he played the first openly gay character on daytime television Steven Carrington, has also worked on shows such as
Entourage
,
CSI Miami
and
Nip/Tuck
. He will be talking to the guys not only about his work on the hit NBC series,
Heroes
, but also about how he got into acting and much more. Plus to celebrate the launch of the series there is an exclusive sneak peak of the interview available to
download for free
.
Following a long break Stuart Claw and Matt Dillon return with a season that promises to bring you not only the usual mix of news, reviews, competitions but also some more top quality interviews. It's been a hectic few months, filled with travelling, editing and writing but we are ecstatic to finally be back and cant wait to get started, comments show presenter and producer, Stuart Claw.
The season kicks off at the usual time of 8pm GMT on Wednesday 29th April live at
www.dtrn.co.uk
and will feature a mixture of news and reviews and if you want to submit your suggestions or opinions on a news story then feel free to email stuart@dtrn.co.uk