At
SciFi Wire
:
(Please follow the link for the complete interview.)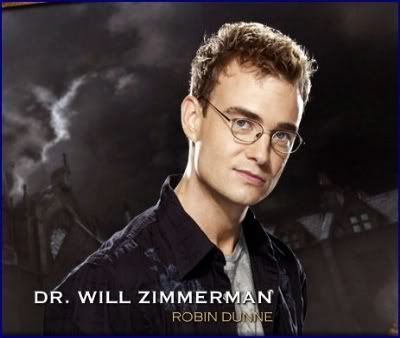 Sanctuary's Robin Dunne teases season two
By Bryan Cairns
05/08/09
Robin Dunne
, who plays Will Zimmerman on SCI FI Channel's original series
Sanctuary
, told SCI FI Wire that things are about to get much worse in season two.
Dunne
, speaking in an exclusive interview, also offered up a few spoilers for the upcoming new season, which premieres in the fall with 13 new episodes and the addition of new cast member
Agam Darshi
as Kate Freelander.
Following is an edited version of our interview with
Dunne
.
A brief excerpt:
... Now that you've established these characters, are we going to learn more about Will and his history?
Dunne: Absolutely. We are shooting episode three right now, and already we've taken Will to another level. Last season, he spent time getting used to the sanctuary and having his foot in both worlds, but not sure which way he was going to go. By the end of season one, he jumped right into the sanctuary and resigned himself to that life. Now there's a lot going on for Will. Already, he's had to deal with some pretty major things. These things that happen in the first few episodes dredge up some old memories of his past. There's definitely more of a darkness to Will, and he's kind of wrestling with some demons. That's going to be further explored, so what's happening in the present is going to clash with some of the things he's buried. You are going to see a different Will this season. For me, playing such a great character and taking him to another level is challenging and exciting.