From
Joseph Mallozzi's blog
update for December 29, 2009:
(Please follow the link for the complete blog update and to see a full size of the photo below of Peter standing within the SGU stargate.)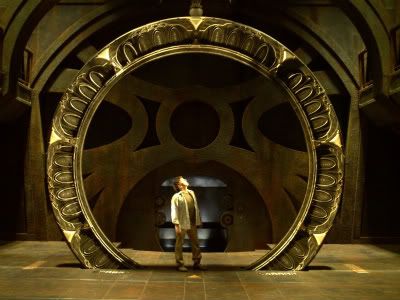 Actor Peter Kelamis and the Destiny's stargate (photo courtesy of Joseph Mallozzi)

Actor Peter Kelamis Answers Your Questions!
Today, it gives me great pleasure to turn this blog over to actor
Peter Kelamis
,
Stargate: Universe's
Dr. Adam Brody, for what I hope will be the first of many cast Q&A's. I remember Peter from way back when he first graced graced the
Stargate
franchise with his presence, guest-starring as the fleet-footed Dr. Langham in
SG-1's
Smoke and Mirrors
. Today, he spends less time being clothes-lined by Jaffas and more time exploring the vast outer reaches of space alongside the rest of his fellow unlikely crewmembers aboard Destiny. Which, I'm sure, is the way he'd prefer it.
Anyway, a big thank you to Peter who has taken time off from his very demanding twittering schedule to swing by and spend time with us. And, to everyone else – enjoy…
A brief excerpt:
Edith writes: "Question for Peter K – hello! I'm enjoying the changes in the relationship between your character and Robert Carlyle's character. My question concerns keeping the timeline of such changes straight as an actor. Is this easier to do in a tv show which at least is filmed episode by episode, rather than in a film, where scenes will be shot in the most convenient order?
In addition, so much of this show hangs on the people and the relationships – has this been as satisfying as I am imagining it might have been?"
PK: It truly is satisfying. This show is very relationship based, possibly more than previous incarnations of the series. And watching those relationships develop over time is as rewarding to the actor as it is to the people following the story.

It is much easier to keep timelines in your head on TV as opposed to movies but you have to be on your toes…I was educated on that fact while being directed by

Peter DeLuise

…I showed up on set and he asked me where Brody last appeared in the script and where he will appear next? I was stumped for a minute and was embarrassed to say that I had a pretty good overall idea, but didn't have an exact answer….I have never made that mistake since…a lesson well learned. Thanks Peter!