At
SciFi Wire
:
(Please follow the link for the complete interview at SciFi Wire.)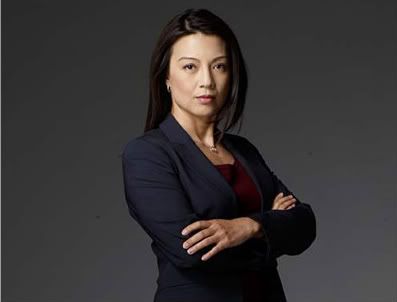 Why SGU's Ming-Na was surprised to play Stargate's first lesbian
By
Kathie Huddleston
ON 12/29/09
Actress
Ming-Na's
character, Camile Wray, seemed destined to be little more than an underused troublemaker on
Stargate Universe
. Then, in a pivotal episode, "
Life
," we discovered that she is a lesbian who has an awful lot to lose by being stuck on the Destiny with no way back to Earth.
Ming-Na's
character suddenly had depth and was far more than a recurring IOA bitch.
That episode was followed up by "
Justice
," which left Camile in charge of the ship when Col. Young was accused of murder. "It seemed in the beginning they had her a little bit ambiguous, not certain what her intentions are ... Is she one of the good guys? Bad guys? I think it was a lovely way to slowly reveal a character. For me it was a joy to discover all those elements about her. It's almost just like reading a good novel," said
Ming-Na
(
Mulan
,
ER
).
That novel is unfolding in the most interesting ways, especially when it comes to her character's revelation that Camile's long-time partner on Earth, Sharon (
Reiko Aylesworth
), is obviously the love of her life...