At Chicago Now's
Show Patrol
(Chicago, IL):
(Please follow the link for the complete article.)
Louis Ferreira faces old, new foes in 'Stargate Universe'
by
Curt Wagner
on 04.02.10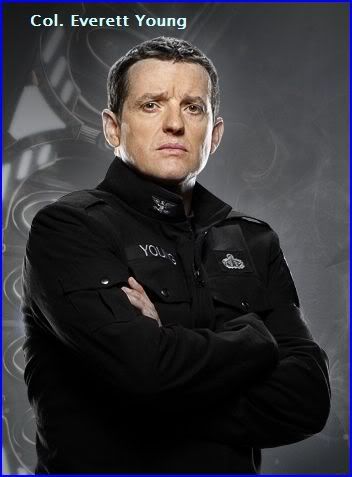 When "
Stargate Universe
" returns Friday, things won't be going well for Col. Everett Young.
The leader of a rag-tag band of survivors aboard the starship Destiny, played by
Louis Ferreira
, is second-guessing his shocking decision to abandon his chief antagonist, Dr. Nicholas Rush (
Robert Carlyle
), on a dusty planet.
"I think it weighs heavy on him," Ferreira told me during a recent phone interview. "He's a kind of a fatherly figure. It's that old-school, '50's dad that people say, 'My father, man, he's just [bleeping] tough and would never let me get away with that.' But he has a heart of gold, you know?"...

A brief excerpt:
Rush and Camille Wray (
Ming-Na
) are sort of the troublemakers, the pains in the butt. But Young seems to be the one having issues with them. It makes me wonder if he's actually the problem? As he says of Rush, "He's a lot of work." Is Young really a lot of work?
Yeah. Well, he's not the greatest. I think that [the writers will] be very happy when [viewers] are all over the place: "We like Rush! No, we don't! it's Young, now it's Rush, now it's Young. And no, no, it's Scott!" You know what I mean?

I think that's the show that they intended to create. I think in the last episode, "Justice," Young makes a very harsh, rash decision that some could easily question. I understand the questionability of it ... But Young's intention is to get people home, and he has a guy whose clear intention is to explore this ship [instead]. I think people on the fan side are going, "Well, no, we want to stay on the ship, that's what we want to see, we want to see the ship." Right? So they can easily side that way [with Rush].

But the reality for me is that if you are standing in the way of getting us home and [Young] makes the decision that Eli ... may be my ticket [home]. He may be my Rush without the evil, if you will. And that's enough for [Young] to sort of make the decision that he does.