At
GateWorld
:
GateWorld Podcast: 'Subversion'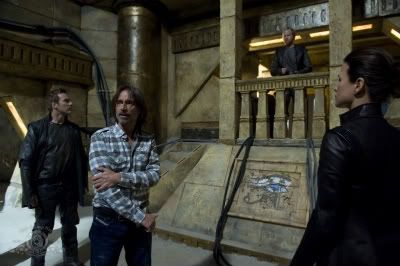 Mike Dopud (Varro), Robert Carlyle (Nicholas Rush), John Murphy (Olan) and Rhona Mitra (Kiva) from Stargate Universe's 'Subversion'
Visit the GateWorld
Podcast page
for more about the show!
"Subversion"
kicks
Stargate Universe
into high gear, paying off some early character and plot set-up from last fall and setting up the two-part season finale. In this week's podcast we'll discuss everything from Colonel Telford and the major developments with his character, to Rush and Young and the lengths to which they are willing to go, to the Lucian Alliance and their secret plans. We'll also talk about Jack and Daniel's guest appearances, and the many ways in the Stargate universe to brainwash your enemies and "make" new friends. And we'll hear what listeners thought about this episode, too!
Join the discussion! Next week is Open Line Night on the podcast — and we want to hear from you. Call the hotline [(951) 262-1647 (Long distance rates apply)] by Saturday and ask a question, suggest a topic, or share your opinion on anything Stargate or sci-fi. David is off to
TimeGate 2010
this weekend, so our favorite Tame Farrar will join Darren for Open Line Night.