At
The League Of Extraordinary Genres
:
(Please follow the link for the complete interview.)
An Interview With

Robert Lawrenson
Thursday, June 24, 2010
Robert is a British born actor, now based in Vancouver, Canada. He has appeared in such projects as
Sanctuary
,
Coronation Street
,
Doctors
,
Smallville
&
Robin Hood: Beyond Sherwood
.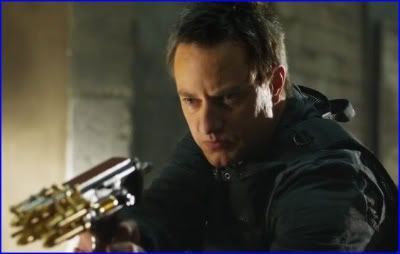 Robert Lawrenson from

Sanctuary
A brief excerpt:
TLOEG: Would you consider making appearances at conventions?
RL: Yes, in fact myself and several of the regular cast of Sanctuary will be appearing at the first ever Sanctuary convention at the Sheraton Wall Centre in Vancouver Jul 30th – Aug 1st. I am really looking forward to being involved and meeting the fans of the show, who make it all possible. Its being run by GABIT events and is made more special as nobody is taking a fee, and all the proceeds from ticket sales are going directly to "Sanctuary for Kids" the charity set up by Amanda Tapping, Damian Kindler & Jill Bodie, which the show supports throughout the year. It's being run by GABIT events.
... TLOEG: Regarding your character in Sanctuary, did the producers give you Declan's back story, do you get to make it up or is it something that was a group effort? Can we expect to see more of Declan's back story on screen?
RL: When I first met the producers at audition I was given an outline for Declan which informed my characterisation. Since then I've been fortunate enough to be given great freedom from the producers to develop Declan who have supported my character decisions as an actor. Back story really is a group effort, partly expressed by the producers but fleshed out in my own mind to inform my own acting decisions.