At
GateWorld
:
GateWorld Podcast: The Science of SGU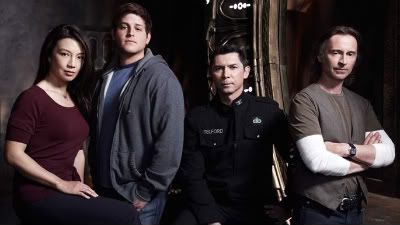 Visit the GateWorld
Podcast page
for more about the show!
Is it conceivable to power a ship with the stars themselves? Are alien lifeforms like the dust devil and the blue "Space" aliens really evolutionary possibilities? And how does faster-than-light travel work? This week on the
GateWorld Podcast
we examine the science of
Stargate Universe
, with a special guest expert on hand to discuss how the television series lines up with real-world science. Astronomer and science fiction writer
Diane Turnshek
joins David and Darren to talk about all this, and more.
It's the first of our final three shows of the summer!
Stay tuned next week for our discussion of Ancient history, followed by the 100th Episode Bash on August 4
.