From TV Guide Online:
http://www.tvguide.com/tv-hotlist
(Please follow the link for the complete column. SGA is #1 on the TV Hot List!)
TV HOT LIST
The Shows We're Watching Tonight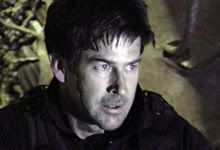 Stargate Atlantis
10 pm/ET SCI FI New
The spin-off's fourth-season finale borrows the wisdom of author Thomas Wolfe, who famously observed that "you can't go home again." Sheppard (Joe Flanigan) does the time warp and returns to Atlantis a few thousand years too late, where he finds the aquatic space station abandoned in a sea of sand. If you've ever wondered what Dr. McKay would look like in his autumn years, be sure to tune in to witness this conundrum. — Michael Chant
Dive into full episodes and clips of Stargate Atlantis with our Online Video Guide.
http://video.tvguide.com/search/Stargate+Atlantis
**snippage**