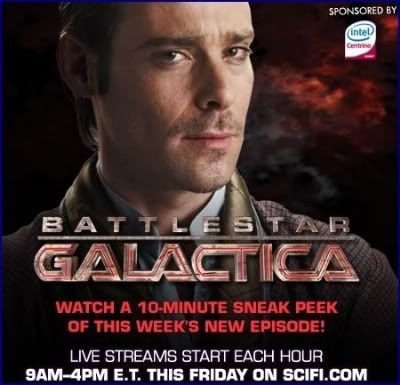 LIVE STREAMING EPISODE - FAITH
See a 10-minute sneak peek of each week's episode of Battlestar Galactica on
SCIFI.COM
!
Log on every Friday to watch a special LIVE streaming-video preview of the first act of that evening's new episode before it airs on SCI FI.
Live video streams will run on
SCIFI.COM
at the start of every hour from 9:00 a.m. to 4:00 p.m. Eastern Time. To view the stream, you must have the latest version of Windows Media installed on your computer.
http://www.microsoft.com/windows/windowsmedia/player/default.aspx
While the episode sneak peek is streaming live, you will not be able to pause it, rewind it, or fast-forward through it.