From SciFi Wire:
http://www.scifi.com/scifiwire/index.php?category=0&id=53810
(Please follow the link for the complete SciFi Wire article.)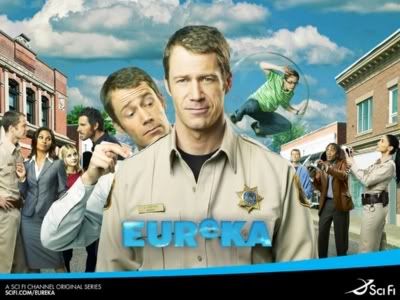 12:00 AM, 12-MAY-08
Is Love Coming To Eureka?
Sheriff Jack Carter will find a love interest on SCI FI Channel's original series Eureka in the upcoming third season--and so will his automated house, S.A.R.A.H., producers told SCI FI Wire. (Possible spoilers ahead!)
Executive producer Charlie Craig confirmed that Carter (Colin Ferguson) will finally explore a romantic relationship. "Sheriff Carter will have a love life this year, yes," Craig said at NBC's All-American Summer Press Day in Pasadena, Calif., earlier this month.
Ferguson, who also attended the press conference along with co-creator Jaime Paglia, expressed surprise. "Yeah, oh?" he said. "On screen? Am I?"
**snippage**
The new season of Eureka premieres July 29. --Mike Szymanski