From Kids Need to Read:
http://community.kidsneedtoread.org/?p=486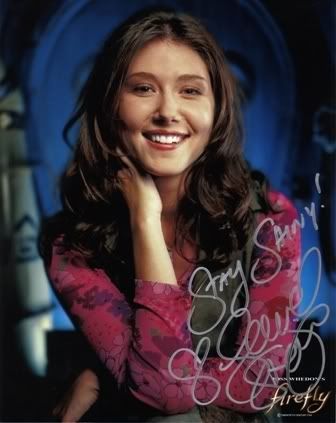 Always Shiny Kaylee!
In any role, actress
Jewel Staite
brings a charm and vulnerability that endears her to viewers. Now you can own an autographed, high quality, 8×10 photo of Jewel in her role as ace ship's mechanic Kaylee Frye in
Firefly
and
Serenity
.
Kids Need to Read Charity Auctions is proud to offer this collectible for Jewel's many fans. Whether you remember her from her two Canadian TV series, from Joss Whedon's
Firefly
and
Serenity
, or are a current fan of her work on
Stargate: Atlantis
, you will be thrilled with this shot of the ever-cheery Kaylee, personally signed by Jewel.
Bidding begins immediately at
http://cgi.ebay.com/ws/eBayISAPI.dll?ViewItem&item=110256241957
. Bids open at $30.00 and will be accepted until May 30, 2008
Our sincere thanks go to our KNTR volunteer, who had this photo signed for Kids Need to Read at the Serenity LA convention in November and donated it to us for auction. Proceeds are used by Kids Need to Read to purchase books for under-funded schools and libraries, as well as for other literary organizations that provide books to disadvantaged children.
We are always looking for auction items! If you have something you would like to donate to Kids Need to Read, email Debbie Brown at debbie [at] kidsneedtoread.org .
~~**~~**~~**
About Kids Need to Read
:
http://community.kidsneedtoread.org/?page_id=2
The Kids Need to Read Foundation was established in August 2007 by The Softwire series author PJ Haarsma and actor
Nathan Fillion
. Kids Need to Read raises money to buy books through bi-weekly auctions on eBay, which have proven very popular among fans of Firefly/Serenity and science fiction, as well as literacy advocates. A CafePress store selling literacy-themed merchandise and "Kindness is a Strength" items helps to raise additional funds for Kids Need to Read. Various fundraising events lend additional support to the organization.