From Joseph Mallozzi's blog update for May 27, 2008:
http://josephmallozzi.wordpress.com/2008/05/27/may-27-2008-man-wills-fortune-to-dog-dog-blows-it-all-on-coke-and-whores/
(Please follow the link for the complete blog update. NEW photos from Stargate Atlantis season five production at the link above in their full-size, high-resolution format.)
May 27, 2008: Man Wills Fortune to Dog. Dog Blows it all on Coke and Whores.
Apparently, I've been drafted by the Atlantis 100th Episode Party Planning Committee to help in the planning of, you guessed it, the Atlantis 100th Episode Party. Lawren informed me that, in the coming weeks, I'll be expected to take part in the "strategic imaginings" for the big event. Hmmm. To be honest, I'm not really sure what I'll be able to add to the big prep session as my planning skills are better suited to story outlines, menu selections, and daring jungle escapes. Still, just off the top of my head, here are a few suggestions:
**snippity doo-dah**
Daniella Alonso as Katana
Over the weekend, I promised to give you all the scoop on Katana, the Traveler who will be making her first appearance in the mid-season two-parter. Well, I'm pleased to tell you that Daniella Alonso has been cast in the role. Those of you not familiar with Daniella's work may want to check out her 11-episode arc in season two of
Friday Night Lights
. She was excellent in FNL and is doing a wonderful job for us on
The Lost Tribe
.
Sharon Taylor (Amelia Banks) and David Nykl (Radek Zelenka)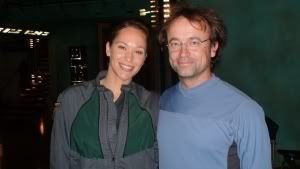 Another introduction of sorts and one that's long overdue. Sharon Taylor plays one of our gate technicians on
Stargate: Atlantis
. She first caught our eye playing the role of a replicator in the episode
Lifeline
. She had such a unique look that we brought her back as a real, flesh and blood member of the expedition. A line here, a line there, and then it was only a matter of time before something else struck us about Sharon. She's damn good. We continued to bring her back, increased her face-time, and, as a true indication that she had really made it, finally gave her character a name: Amelia Banks. And the fact that Sharon is a black belt kick boxer and could probably kick all of our asses had nothing to do with it.
By the way, great feedback on
The Android's Dream
. Keep it coming and make sure you get your questions in before mid-day Wednesday when I'll be sending them Mr. Scalzi's way. As for what's been said so far:
**snippage**
Mailbag returns tomorrow.
Probably.
Director Andy Mikita