From MGM Stargate:
http://stargate.mgm.com/news_detail.php?id=84

(Please follow the link for the complete MGM Stargate article. Photo at the site, courtesy of Martin Wood, is in its original full-size, high-resolution format.)
The Making of Continuum (Pt 1)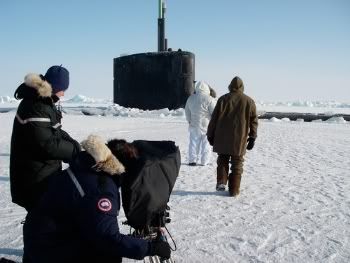 Photo Courtesy Martin Wood
May 29, 2008 (General)
From the frozen wastes of the Arctic Circle to the terrors of a changed timeline, the SG-1 team's latest adventure is their most amazing yet! Writer and Executive Producer Brad Wright opens our series on the making of Stargate Continuum.
A brief excerpt:
**snippity doo-dah**
[Richard Dean] Anderson isn't the only familiar face that long-term fans will recognize in Continuum, either. Amongst others, William Devane returns as President Hayes and Cliff Simon reappears as SG-1's old Nemesis Ba'al – which provided an opportunity for Wright to explore a few alternative paths for another favorite face.
"I wasn't going to use Vala as extensively as I did," Wright explains, "and then Robert [Cooper] suggested a certain twist that makes her far more villainous and essential to the final part of the movie."
In fact, Claudia Black gets a chance to explore Vala's life before ridding herself of Qetesh. "It's fun because this is a Qetesh that would have been different, even from the other timeline," Wright points out, "because this is a Qetesh who was forced into marriage with Ba'al. Ba'al says, 'I want you to be my queen', which is a Goa'uld way of imposing servitude. But Qetesh is a Goa'uld, and obviously wants the power for herself."
**snippage**
Watch out for the second part of our chat with writer and executive producer Brad Wright – coming soon!
Story by Sharon Gosling