From
Media Blvd. Magazine
:
(Please follow the link for the complete interview.)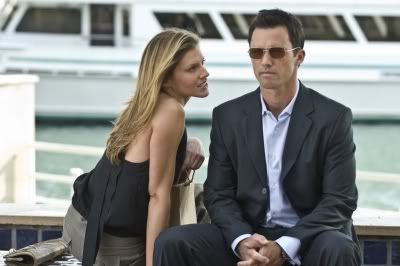 Tricia Helfer as Carla and Jeffrey Donovan as Michael Westen
Tricia Helfer,
Battlestar Galactica's
best known "woman as machine", Six has joined the cast of USA Network's
Burn Notice
for the show's second season. Tricia will have a recurring role as Carla, a CIA agent who was involved with burning Michael, and who now is acting as his handler. She recently took time out from filming the Galactica finale, and preparing for her multi-episode arc on Burn Notice to answer a few questions.
The second season of Burn Notice, premieres Thursday, July 10th at 10:00 p.m. on USA Network.
A brief excerpt:
Question> As an actress, how fun is it to play a duplicitous character like Carla?
Tricia> It's a lot of fun. It's also challenging, because you want to make sure you find the right tone and that was definitely one thing that I was concerned about going down, and that's one place that Jeffrey really was great, because after our first take in the first scene, he's like you have the tone. You nailed the tone. That's exactly our show, now let's play. I keep thinking of what Matt said is she's serious, threatening, but with a smile, and I just try to keep thinking in that. Again, that sort of comes back to where I feel like she feels she's sort of invincible at this point. She's so sure of herself that she can be relaxed and a little playful, because she's just so sure of herself. If you're not as confident, that's when you're a little more wary, and if you're super-confident about what you're doing, or your mission, or whatever it is, you can allow yourself to relax a little bit.