From
GateWorld
:
(Please follow the link for the complete GateWorld review.)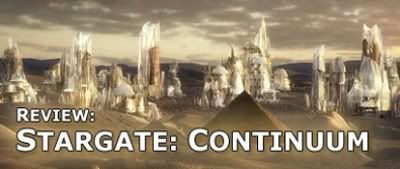 Review: Stargate: Continuum
It's hard to believe it has been nearly two years since
Stargate SG-1
was cancelled -- nearly two years since MGM announced it would follow up the series with a pair of direct-to-DVD movies. Now the second of those is here (following March's release of
The Ark of Truth
).
Comparisons between
Stargate: Continuum
and the television series are inevitable, as well as between this film and
Ark of Truth
. Does the movie break new ground while retaining Stargate's well-worn sensibilities? Does it duplicate past story ideas, such as "Moebius," too closely? Is it accessible to new viewers?