At SciFi.com's
SciFi Weekly
:
(Please follow the link for the complete interview. Photos at the site.)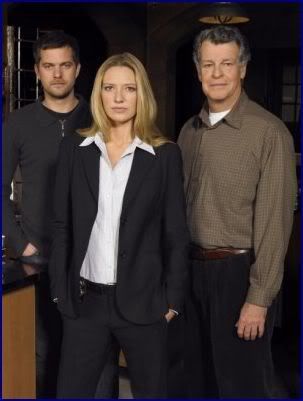 Joshua Jackson, Anna Torv and John Noble
INTERVIEWS
September 08, 2008
J.J. Abrams, Alex Kurtzman and Roberto Orci dig deep to discover "the pattern" in their new Fox series, Fringe
By Kathie Huddleston
They are no strangers to conspiracy television with deep, dark mythologies. Executive producers
J.J. Abrams, Alex Kurtzman
and
Roberto Orci
, in fact, cut their teeth on ABC's
Alias
. Not only did that series make
Jennifer Garner
a star, it also made mythology cool while dressing up sci-fi as a spy series. Add to that successful TV and movie writing and producing careers, and a little series by Abrams called
Lost
, and you have the formula for a new chapter in sci-fi conspiracy television called
Fringe
. Fox's two-hour pilot premieres Tuesday, Sept. 9, at 8 p.m. ET/PT.
Fringe
tells the tale of FBI special agent Olivia Dunham, who must partner with a brilliantly insane scientist named Walter Bishop and his brilliant slacker son, Peter, to uncover a mysterious pattern of fringe science experiments that seem to be based on Walter's early work. Add to the mix a megacorporation called Massive Dynamics, which was created by a man who used to work with Walter, along with some fringe science gone bad, and the mythology begins to get interesting. Fringe stars
Anna Torv, Joshua Jackson, John Noble, Lance Reddick, Kirk Acevedo
and
Blair Brown
.
Beyond
Alias
,
Lost
and
Fringe
, Abrams, Kurtzman and Orci have been involved with numerous television and movie projects. Abrams' projects included
Felicity
and the film
Cloverfield
. Kurtzman and Orci have written
Hercules: The Legendary Journeys
episodes and the film
Transformers
. The three producers co-wrote
Mission: Impossible III
and are working on the upcoming
Star Trek
film, which is due to be released next year.
Abrams, Kurtzman and Orci chatted with SCI FI Weekly about star Anna Torv, creating mythology and the Kurtzman/Orci band...
How are you incorporating the mythology?
Kurtzman: I think for us part of the general approach is to always know your big-picture idea, so that you are working backward from the larger story you want to tell, but at an episodic, week-to-week level. We really like to ask ourselves, "How do we surprise ourselves?" "How do we find structural ways into the story or turns and twists that we would have not predicted?" That, for us, needs to be the barometer on the week-to-week basis. Because the minute this starts to feel predictable or you can start to discern some kind of a pattern to the way we tell stories, I think the audience loses their interest.
Orci: My short answer is we're going to do it slowly, that's how. There is going to be an overarching theme that we love, but it's going to be doled out slowly, because we do have the amazing benefit of the convention of a procedural that allows you to tell stories with a beginning, middle and end, where you don't have to have a shock that changes the series every show.
Abrams: There is a mythology. There's an overarching storyline. These characters do not react exactly the same episode to episode. But, on the other hand, we know the reality of viewers and the way TV works. You can't make a show that requires you to watch every week and not, to some degree, limit the amount of viewers you're going to have. The crucial thing is finding that balance between how user-friendly is the show going to be and how hardcore niche you want to be. So a show like Alias or Lost, it's difficult tuning in for the first time at Episode 48. It's probably a conundrum. Although I believe the way Damon [Lindelof] has run the show and gotten to a place, I believe it is so dramatic and so compelling, hour to hour, that it's still great TV to watch. But you're going to understand tuning in to an episode of ER, Episode 203, where you don't need to know a thing. And you'll understand, "Oh, I get their relationship. I see it." Because you know the world. You know which way is up. You understand the rules...