From
The Province
(Vancouver, BC, Canada):
(Please follow the link for the complete two-page interview.)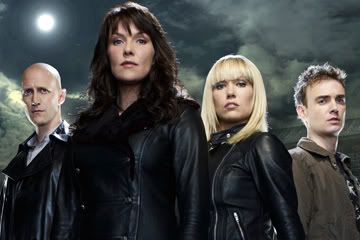 Local actor Tapping finds Sanctuary
After 10 years of combat boots, she has to navigate the stilettos
Glen Schaefer, The Province
Published: Sunday, September 07, 2008
Amanda Tapping
is not an easy person to get a chunk of time with.
The Vancouver-based star of the long-running series
Stargate SG-1
, which ended after 10 years but is continuing life in made-for-TV movies, is also a recurring player in the spin-off
Stargate: Atlantis
, and most recently signed on as star and executive producer of the currently-shooting new sci-fi series
Sanctuary
.
So an interview we tried to schedule when the movie
Stargate: Continuum
came out last May finally happened last week, during breaks in shooting at
Sanctuary's
Burnaby soundstage.
Sanctuary's
13 episodes wrap this week.
In sci-fi circles, what Tapping calls "the genre," she's the kind of name that can launch a series, as she's doing now with
Sanctuary
. But hers isn't the kind of fame that follows her home on rare days off with her three-year-old daughter and home-builder husband.
"It's the best of both worlds," says Tapping, who can draw thousands of fans to appearances at such events as San Diego's annual Comic-Con. "I never went into acting to become a celebrity, I never got that culture, I still don't get it. Working in Vancouver, raising my family here, it's perfect, I get to do exactly what I want to do..."