From Joseph Mallozzi's
blog
update for September 7, 2008:
(Please follow the link for the complete blog update, and to view the new behind the scenes photos from Stargate Atlantis' 'Whispers' [in their original format] and five -- count 'em 5! - behind the scenes videos from 'Whispers!'
Joe, THANK YOU so much
!)

Director Will Waring
September 7, 2008: I Suffer a Field Injury, The Whispers Breakdown Part II, and Oodles of Pics and Vids
**snippage**
Speaking of the book club, author Stephen Dobyns turned his Q&A around in record time so I'll be turning this blog over to him tomorrow. In the meantime, I hope you're all very busy reading this month's selections because the week of September 15th fast approaches when we'll be discussing Justina Robson's Keeping It Real with author Justina Robson. The following week, author Glen Cook be dropping by to field your questions about this month's fantasy selection, The Black Company, and author Sarah Langan will be joining us the week after that to talk about The Missing, this month's horror selection.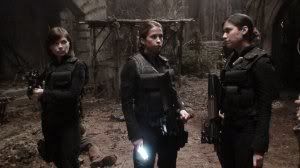 Dr. Allison Porter (Nicole De Boer), Maj. Anne Teldy (Christina Cox) and Sgt. Dusty Mehra (Janina Gavankar)
**snippage**
Anyway, continuing with the
Whispers
breakdown…
ACT THREE
INT. MICHAEL'S LAB - NIGHT: Mirellus's revelation.
Another straightforward scene. Sheppard realizes the answer to dealing with Michael's experiment lies in the data, and since his wraith reading skills are as rusty as Teldy's, they set off to find Beckett and Porter.
INT. HOUSE - NIGHT: Beckett heads out to investigate.
Unable to contact Sheppard, Beckett is going stir crazy. His friend is in trouble and he is, in effect, stranded and can't help him. At which point he hears the sound of movement outside. As he explains to Porter, if there's a threat out there, they're as good as sitting ducks. Subscribing to the theory that the best defense is a good offense, he heads out to check the perimeter. In his mind, he can look around and stay close enough to the house in the event Porter sounds the alarm. Unfortunately, his little stroll takes an unexpected turn...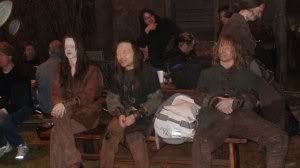 Ghouls just want to have fun