At
Newsarama
:
(Please follow the link for the complete interview.)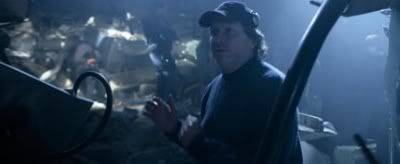 TV
Stargate: Atlantis Plots Course for Series' End
By Steven Eramo
posted: 04 September 2008 12:50 pm ET
**snippage**
At the time of this interview,
[Andy] Mikita
was just starting prep for the Atlantis midseason two-parter "
First Contact
" and "
The Lost Tribe
", which features not only the return of an old friend from the
Stargate SG-1
universe, but also the ever-duplicitous Todd the Wraith (
Christopher Heyerdahl
) and one of Atlantis' newest allies, the Travelers.
"This morning we had our concept meeting and art department meeting just to get things up and running and talked in terms of the broad strokes as far as filming this two-parter," explains the director. "The ship has already sailed with regard to a few key components and some of the story's key cast as well as the design of our new spacesuit that some of our creatures in these episodes will be wearing. The suit is very cool, and due to the complexity of it we began talking a while ago about the conceptual drawings when the [story] idea first came up."
**snippage**
Since doing this interview, Mikita has directed two additional season five Atlantis stories, "
The Prodigal
" and "
Infection
". He is currently prepping to film the milestone 100th adventure (and what is now the series finale following Atlantis' recent cancellation),
"Enemy at the Gate
". "I'm super-excited and honored that they [the show's producers] gave me that episode to direct," he enthuses, "and hopefully I'll be able to do it justice."