At
SciFi Weekly
:
(Please follow the link for the complete interview.)
INTERVIEWS
September 01, 2008
Ex X-Man Anna Paquin teams up with Stephen Moyer and Alan Ball to give Charlaine Harris' vampire books eternal life
By Mike Szymanski
Alan Ball acknowledges that vampires are in. Somehow in the psyche of the world right now, plenty of people like vampires. So he is particularly excited about bringing the Charlaine Harris books to HBO with the series True Blood.
Ball spoke at a private telephone press conference less than a week before his show debuts on Sept. 7, and he joined his two stars, Anna Paquin as psychic Sookie Stackhouse and Stephen Moyer as vampire Bill Compton, at the Television Critics Association interviews in late summer.
Anna Paquin, what do you think of doing TV after doing movies all of your career?
Paquin: I think ensemble acting is the most fun, because in this case you have extraordinary people around you that you get to play with all day. I wanted to re-create the adventure and the fun and the sort of excitement of reading those books and the feeling like I had stumbled into this world. I have to see what happens.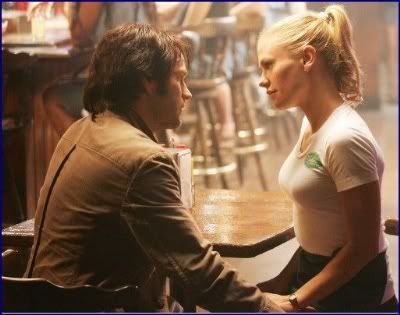 Anna Paquin and Stephen Moyer
Stephen Moyer, what do you think is different in this series?
Moyer: Something I don't think I've ever seen in a series ... is how you get to the end of each episode, and the episode begins where that episode ended, and that happens all the way through the season.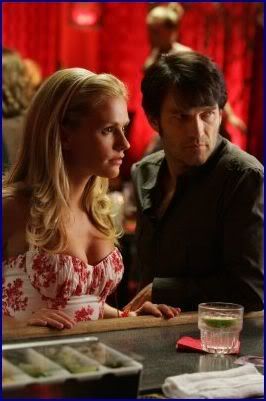 Alan Ball, it seems like vampires are in vogue again. Do you have any insights on that?
Ball: I think vampires are a timeless, powerful archetype that can tap into people's psyches. They've been around forever, even before the reinvention of vampires in the 1990s with Bram Stoker's Dracula. A lot of world mythology all over the globe has creatures like the succubus, the one that feeds on the essence of people. I don't really know why this is all happening at this time. I'm just glad it's happening.