At
The SciFi World
:
(Please follow the link for the complete interview.)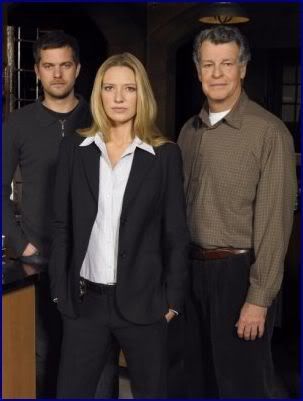 Joshua Jackson, Anna Torv and John Noble
John Noble Interview
30th October 2008
John Noble
is an Australian film, television actor, and theatre director of more than 80 plays. He was born in Port Pirie, South Australia. He makes occasional appearances on the television series
All Saints
. He is internationally best known for his performance as Denethor in T
he Lord of the Rings: The Return of the King
film. He played Russian Consul Anatoly Markov in the sixth season of the American television series
24
and "Meurik" in
Stargate SG-1's
last episode of season 9. His most recent work is as mentally unstable scientist Walter Bishop in the
J. J. Abrams
television series
Fringe
, which premiered in September 2008. Visit also:
www.johnnoble.net
A brief excerpt:
... Gilles Nuytens: Your character is someone that has lived for 17 years in a psychiatric institute, how did you approach the mental aspects of Dr. Bishop, was it as challenging as we could imagine, and what was the most difficult part playing someone so unstable?
John Noble: Research is the answer to playing this type of role, both medical and scientific... I was determined to develop the character based on all available medical information, and I read widely on the fringe science that was practised during the cold war. I also read about the well- known scientific 'geniuses'. Einstein, Newton, Galilleo, Darwin, and others.