At
GateWorld
:
(Please follow the link to view the video in its original format.)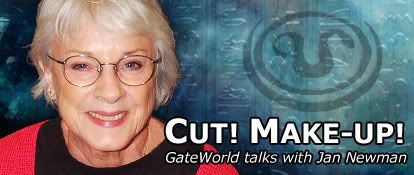 CUT! MAKE-UP!
GateWorld talks with Jan Newman
Stargate SG-1
make-up artist
Jan Newman
has been a favorite of GateWorld's editors for a number of years, but this busy butterfly has kept herself so occupied that we have never had a chance to talk with her ... until now!
GateWorld sat down and "powdered up" with the SG-1 make-up artist at this year's Gatecon convention in Vancouver, British Columbia! Originally from Australia, Newman has worked on
MacGyver
, all 10 seasons of SG-1, and the DVD movies
Stargate: The Ark of Truth
and
Stargate: Continuum
!
Jan takes us back to her original run-in with the make-up profession before she had a chance to go off and become a flight attendant. We discuss the origins and complexities of the Jaffa tattoo, aging members of SG-1 in various episodes, and working with the likes of
Christopher Judge, Richard Dean Anderson
, and the late and great
Don S. Davis
.
GateWorld's video interview with Jan Newman runs 27 minutes, and requires QuickTime 7.0 or higher. An interview transcript is available at the link above. The interview is also available at
GateWorld Play
!
A brief excerpt:
GW: Who was the most difficult to work with? In terms of like, "We need to get this done." When you were putting the make-up on or touching them back up, who would kid around the most?
JN: Who do you think?
GW: OK, Chris Judge.
JN: No!
GW: Oh, Rick!
JN: Yes! It was like trying to hit a moving target to get him ready! Richard didn't like to sit in the chair for very long. I think the longest Richard sat in the make-up chair was in "Brief Candle" when he aged. We never thought he was going to do that. He got really into it after a while.

The preparation for that -- we had pictures of his father and his grandfather. The designers who designed the make-up took some of those, aspects and some of O'Neill's physiognomy -- that's the right word -- to put it together. He sat still, I think there were three different changes in that.