At the
Rocky Mountain News
(Denver, CO):
(Please follow the link for the complete article.)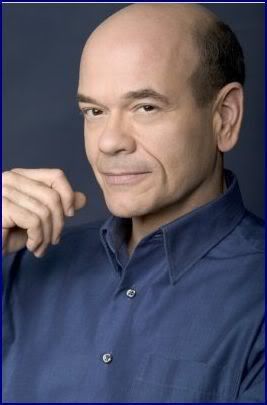 Colorado Symphony program 'Trek: The Concert' aims to get Trekkies to boldly go to concert hall
Symphony has it all: TV stars, story, lyrics
By Marc Shulgold, Rocky Mountain News
Published October 31, 2008
OK, Trekkies: Anyone know the lyrics to the theme music for the original
Star Trek
TV series?
Lyrics? Yes, said
Robert Picardo
, words accompanied the famous tune composed by the late
Alexander (Sandy) Courage
.
"And they were appallingly bad - they're all about searching for a 'Star Woman,' " said the actor who portrayed the Emergency Medical Hologram (aka the Doctor) on

Star Trek: Voyager

. Picardo even will sing them as part of today's Colorado Symphony program, "Trek: The Concert."
But who wrote the lyrics?
"The words were penned by (series creator)

Gene Roddenberry

," he said. "And for a simple reason: Gene knew he'd collect royalties each time the theme was played, even though it would remain an instrumental." (Soprano

Loulie Jean Norman

sang that famous, wordless tune.)
In addition to crooning - something he'd done in Voyager - Picardo will serve as narrator on Saturday, teaming with actor
John de Lancie
(Q in
Star Trek: The Next Generation
). Interspersed with musical excerpts from four TV series and seven films, conducted by
Erich Kunzel
, the actors will tell the Star Trek story.
.. Some of them may quietly hiss at Picardo, who has jumped ship, so to speak, by appearing as Richard Woolsey in the non-Star Trek sci-fi series,
Stargate Atlantis
. "I straddle two franchises like a colossus," he quipped.
... Trek: The Concert
* When and where: 7:30 p.m. Saturday, Nov. 1 '08, Boettcher Hall, 14th and Curtis
* Cost: $15 to $73
* Information: 303-623-7876