At the
Los Angeles Times
(Los Angeles, CA):
(Please follow the link for the complete article.)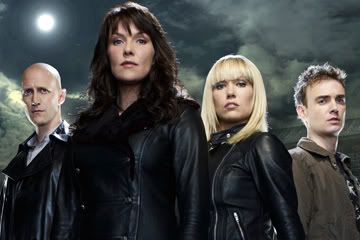 Blogs > Hero Complex
HERO COMPLEX: For your inner fanboy; news on genre films, graphic novels, and science fiction.
The virtual world of 'Sanctuary'
04:00 PM PT, Nov 17 2008
On Sci Fi, the network renowned for "Battlestar Galactica" and the now-canceled "Stargate Atlantis," the new show "Sanctuary" has been chugging along successfully since its premiere a little over a month ago.
The show has been renewed for a second season after getting a fair amount of press attention (like on David Strick's Hollywood Backlot), but not a lot of it has been regarding the premise ("Even things that go bump in the night need protection...") or even the cast (Amanda Tapping, Robin Dunne, etc.). The main attention had been on the production approach: The series is pushing the envelope by shooting extensively on green screen with virtual sets.
The general perception is that effects cost money, which would make this an expensive show. But that perception may be off. Hero Complex contributor Jevon Phillips had a quick phone chat with Lee Wilson, the show's visual effects supervisor and co-producer, director of photography David Geddes ("Halloween: Resurrection" and "Dark Angel") that revealed the true colors of the green screen venture.
On the cost of the show
Wilson: The show, in comparison to some of the other science-fiction shows on, has way more effects than they have and considerably less 'to-do.' That has a lot to do with our plan for global domination ... we've been asked if this is the way of the future, is everybody going to do ...
Geddes: I don't think everybody else can do this. It's just you and me!
Wilson: That's right! ... Everybody is so keen on the show, we're just looking to push it that much further. The magic is just lots of hard work and enthusiasm. Certainly it's less expensive for us to create some of these impossibly large locations as a visual effect than it would be to go on location.
Geddes: And by the way, we don't have any money to do it!
... Sanctuary Backlot
Photo Gallery
(from September '08):