At
GateWorld
: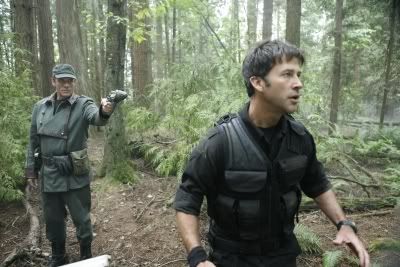 GateWorld Podcast: Episode #19
TUESDAY, NOVEMBER 18 (FEATURES)
Darren and David discuss last Friday's episode "Remnants." PLUS: Preview interview with Dan Shea.
Visit the
GateWorld Podcast
page for more about the show!
GateWorld's editors Darren and David talk about last Friday's new episode of
Stargate Atlantis
, "
Remnants
." It's a complex hour that weaves together three storylines, with the return of a couple of significant recurring characters and some insight into Atlantis's own. Listen to this week's episode to find out what we thought.
We'll also run down
Stargate
news headlines and new site features from the past week, and we have lots of listener mail this week. And last, but not least, podcast listeners get an exclusive preview of this week's new interview with Stargate SG-1 actor
Dan Shea
("Sergeant Siler").