At
Media Blvd. Magazine
:
(Please follow the link for the complete interview.)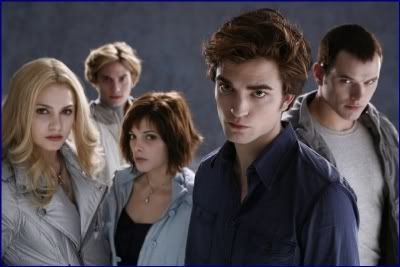 Ashley Greene in "Twilight"
Tuesday, 18 November 2008
By Christina Radish
Ashley Greene initially had plans for becoming a model. But, after being told that she was not tall enough to walk the runways, the 5'5" Florida native decided to take a commercial class, and quickly fell in love with acting. After a move to Los Angeles, she began working in film and television and, when Twilight was brought to her attention by her manager, the 21-year-old knew that she had to play Alice Cullen.
Greene recently took time out from her hectic schedule to talk to MediaBlvd Magazine about the highly anticipated film adaption of the hugely successful Young Adult vampire novel by literary icon Stephenie Meyer, hitting theaters on November 21st.
A brief excerpt:
MediaBlvd> Was it always Alice that you had auditioned for?
Ashley> I went in for Bella, originally. I went in for her two times and met with Catherine Hardwicke, but I wasn't right for that. And then, they brought me back in for Alice. I was super-excited. I had read all three books by then because I liked the series so much. And then, I didn't really hear anything. It went really well, and then I went home for Christmas, thinking I hadn't gotten the part. I was upset about it. I cried about it. It was just one of those parts where I was like, "This is my part!" I wanted it, even from when the first time I went in. And then, I ended up getting a call and they were like, "Hey, by the way, you got the part!" I was super-excited. I called my mom and dad, and they cried. They were so excited. It was cute. It was one of those monumental things in your life. There are some parts where you're just like, "This is my part, and nobody can do a better job," and that was this. One of the greatest things I had on my side was that I fit the character description, minus the height. That worked in my favor. I hadn't really done a lot of big stuff before, and that was part of the hesitation in them hiring me, but it worked out. I worked really hard. Everybody really stepped their game up.