At
SciFi.com
:
SciFi Channel Goes Green
In a generation, someone might ask what finally inspired you to join the effort to reverse global warming. What will you say? Was it a politician's speech or pressure on your lifestyle? Or maybe it was an entertainment company pushing a simple idea: Saving the planet starts with you. How can you help? It's simple - green your routine.
By taking the time today to adopt one or more green routines, you can positively change the way you affect the environment.
SciFi Channel Goes Green
Fight global warming on
Stargate Atlantis
and the SCI FI Original Movie,
Lost City Raiders
, drive an electric car on our new reality series,
Cha$e
, use an energy efficient washing machine on
Ghost Hunters
, and go green (and green screen) with our action-packed, eco-friendly show,
Sanctuary
.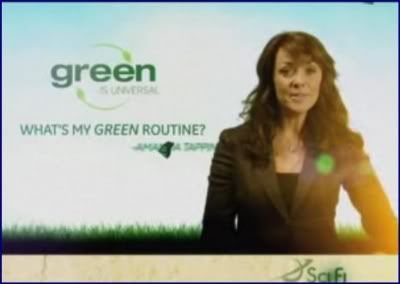 Amanda Tapping
Video Public Service Announcement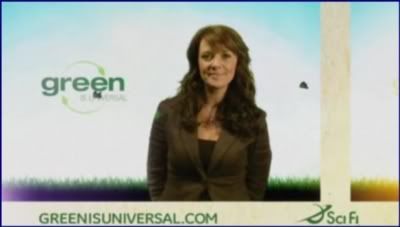 Amanda Tapping
Green Is Universal
Watch the "Green is Universal" PSA by Amanda Tapping. Go to www.greenisuniversal.com for more information