At
TV Guide Online
:
(Please follow the link for the complete interview.)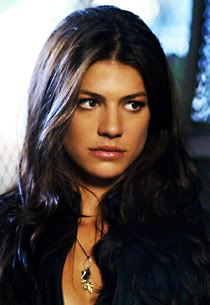 Photo of Genevieve Cortese courtesy of TV Guide Online
Today's News: Our Take
Supernatural's Ruby: "I Feel Like, Deep Down, She's In Love with Sam"
Nov 19, 2008 04:35 PM ET by Matt Mitovich
Now that she's got nine episodes of
Supernatural
(Thursdays at 9 pm/ET, the CW) under her belt and Ruby's complicated story is beginning to be fleshed out, TVGuide.com felt the time was right to talk to former Wildfire star
Genevieve Cortese
about playing the double-agent demon. Might Ruby actually be in love with Sam? What sort of surprises might this week's midseason finale have in store? And what's it like shooting a love scene with
Jared Padalecki
? Let's find out....
... TVGuide.com: The fans seemed to pick up on that right away — "Something is different about Ruby. Is it simply a new actress playing her, or something more?"
Cortese: If you look at Katie's last episode, you see that while Ruby's not responsible for Dean going to hell, she does have some guilt about it. I wanted to use some of that, though not as a sympathy card. After all, if people don't like her, they don't like her. She is a demon. But I wanted to address questions like, "Why are the boys hanging out with her? What do they need her for at this point?" It's not like she is kicking ass; she's asking Sam to kick ass for her, so it's kind of a mutual exchange. I almost feel like, deep down, she's really in love with Sam. One of the lines in [last week's episode] is, "I used to be human, and I still remember what it feels like." Maybe she was being manipulative, sure, but maybe there's also truth to it.