At Kate O'Hare's
Hot Cuppa TV
:
(Please follow the link for the complete interview.)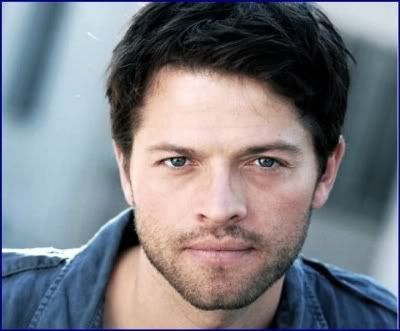 Misha Collins Is 'Supernatural's' Dark (But Very Handy) Angel
Today's cuppa: awesome hazelnut coffee from the gas-station convenience store
Earlier this week, I put up a story at the "From Inside the Box" blog at Zap2it about "Supernatural" guest star
Misha Collins
, who plays the angel Castiel.
... As the Zap story mentions, Collins has a big episode airing tonight on The CW, called "
Heaven and Hell
." But just for my loyal Cuppers, here's a bit more of our conversation, which took place over lunch at the Buffalo Club in Santa Monica, Calif.
Collins is good friends with actor
Zeljko Ivanek
, who played his brother in the first season of "
24
," and they spend time together making furniture, as mentioned in the Zap story. We also talked about shows that Collins likes to watch, which include
"Damages
" (which guest-starred Ivanek), "
Flight of the Conchords
," "
Weeds
" and "
Dirty Jobs
."
I mentioned to him that "Dirty Jobs" host
Mike Rowe
gives talks about our current anti-work culture, in which some folks don't invest that much into their jobs and are instead just working for the weekend.
"I'm lucky," Collins said, "that I've never had a job where I'm waiting for the weekend. I always work really hard at what I'm doing, because it's always what I really want to do."
And this includes the work he does with his hands.
"There is really something inherently satisfying," he said, "in actually building something or actually seeing something repaired with your own hands.

"Most of the men I know these days, they don't know how to fix things, and it's really sad. I'm very glad I'm not one of them. There are plenty of things I don't know how to do, but I'm glad that when the washing machine breaks, I can fix it. That's a nice feeling..."