At
GateWorld
:
(Please follow the link to view the video in its original format.)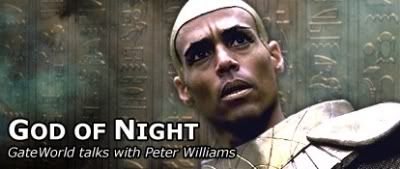 GOD OF NIGHT
GateWorld talks with Peter Williams
GateWorld owes a huge debt of gratitude to actor
Peter Williams
. He, along with writers Sonny Wareham and Daniel Stashower, brought to life a terrific cliffhanger in SG-1's Season Three episode "
Jolinar's Memories
," which sparked the idea of a Stargate Web site. That Web site ultimately grew into GateWorld.
Not only has Williams portrayed the serpent god Apophis off and on for the past decade in various episodes and features (most recently
Stargate: Continuum
), but he is also praised by some of the core cast members as being a favorite bad guy to this day. GateWorld is privileged to finally sit down with the actor for our first interview!
In this piece we discuss the growing phenomenon that
Stargate
has become since the feature film, the various deaths and resurrections of Apophis, Williams's most recent project, "
A Winter Tale
," and much more!
GateWorld's video interview with Peter runs approximately 18 minutes, and requires QuickTime 7.0 or higher. The interview is transcribed at the link above. The interview is also available at
GateWorld Play
!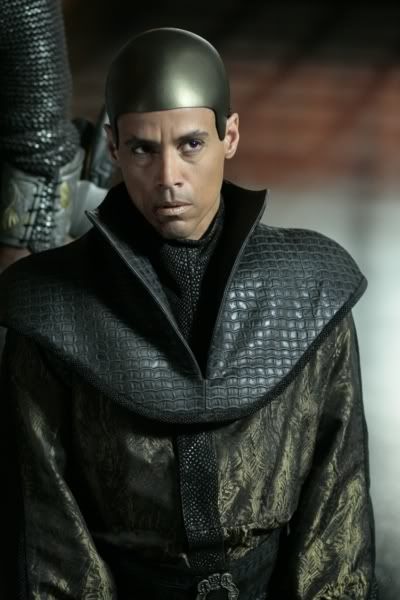 A brief excerpt:
PW: Do you know they're re shooting that two-part episode, "

Children of The Gods

?"
GW: Did Brad [Wright] contact you?
PW: Yes, I've been into the studio to do some voice-over work to clean it up. I think pretty much everyone who was in it is doing that. They have said the finished product is going to be a lot crisper, a lost cleaner, a lot clearer and losing one of those pieces of scenes we're talking about. So, it might hold up as a DVD movie