From a
Fandemonium Novels
e-mail announcement:
Dear Stargate fan,
Firstly, apologies for the late announcement of this book - it was released about a week ago but we're just announcing it to our email list now. However, I hope you will agree that it was worth the wait.
STARGATE ATLANTIS: Angelus
is - in our humble opinion - simply another great story from an author who really gets the story, the characters and the drama of Stargate Atlantis.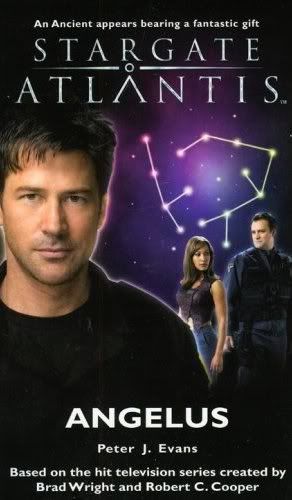 From the back cover of Angelus:
Fear to tread…

With their core directive restored, the Asurans have begun to attack the Wraith on multiple fronts. Under the command of Colonel Ellis, the Apollo is dispatched to observe the battlefront, but Ellis's orders not to intervene are quickly breached when an Ancient ship drops out of hyperspace.

Inside is Angelus, fleeing the destruction of a world he has spent millennia protecting from the Wraith. Charming and likable, Angelus quickly connects with each member of the Atlantis team in a unique way and, more than that, offers them a weapon that could put an end to their war with both the Wraith and the Asurans.

But all is not what it seems, and even Angelus is unaware of his true nature - a nature that threatens the very survival of Atlantis itself…
Angelus is available now from our website and from leading book stores in North
America, the UK, Australia and New Zealand. To order your copy, visit
http://www.stargatenovels.com.
~~**~~**
E-book news!
You've been asking for it and now it's happened -
Stargate
novels are available in e-book format. We're starting with Amazon Kindle. You'll find many of our titles available on Amazon.com already. We will also be making them available via the Sony Reader soon.Other formats will follow in due course (still sorting out all the technical issues!).
Stargate Kindle books on
Amazon.com
~~**~~**
With very best wishes,
Tom and the rest of the STARGATE NOVELS team at...
Fandemonium Books
http://www.stargatenovels.com
tom[at]stargatenovels.com