At
Atronic
:
Experience a New Dimension of Linked Gaming
Join the secret military team of
STARGATE SG-1
™ in this multi-bonus progressive link. Based on the popular movie and TV show,
STARGATE SG-1
is the video slot version with 5 distinct bonuses that summon recognisable features from the
STARGATE SG-1
series, like the Stargate Chevrons and Dial-Home Device.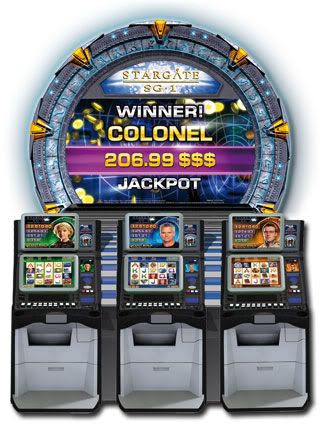 STARGATE SG-1
features five out-of-this-world bonuses. The player must bet max lines and side bet +20 to trigger a bonus. Once triggered, one of the five bonuses is randomly selected. The excitement builds as the Stargate appears, seemingly ready to pick up players for a trip to explore the galaxy. The chevrons start illuminating and continue to glow as the player selects a bonus.
Bonus Features
To be eligible for one of the five exciting bonus features, the player has to activate the SGC Bonuses by playing the 20 credit Bonus Bet. Once the SGC Bonus is activated, the bonuses are triggered by three STARGATE symbols on lines 2, 3 and 4, and the player will be randomly awarded one of the five bonuses.
STARGATE SG-1
is housed in both, the e²™ and e² SLANT™ cabinets. The impressive sign package will attract enormous attention, and players will be standing in line to travel to another planet.
For more information please download the Stargate Brochure:
Stargate Brochure
(pdf, 1.6MB)
GAMES
There are initially three games available, featuring three main characters from the TV series: Jack O'Neill, Daniel Jackson and Samantha Carter.
At
GateWorld Forums
, is a thread regarding the Atronic Stargate slot machines, with a variety of news articles, going back to April 2008.