At
SFX Magazine
: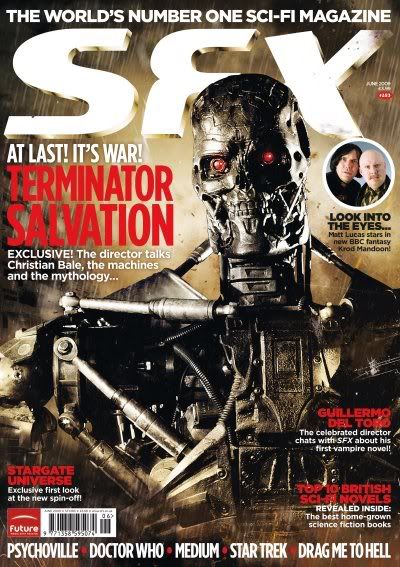 Latest issue
SFX 183 – June 2009
On sale Wednesday 6 May 2009
We get the lowdown on the latest Stargate spin-off series,
Stargate Universe
!
FREE STUFF!
You loved our
Doctor Who
and
Ghost In The Shell
fridge magnets, and now you can add to your collection with a set of free
Transformers
fridge magnets with every copy of SFX 183!
TERMINATOR SALVATION
We chat to director
McG
and give you all the goss on the much-anticipated movie - including an exclusive look at some of the storyboards and a chat with the film's special effects makeup supervisor!
HARLAN ELLISON
Speaking of Terminator, we have an exclusive interview with the celebrated author on the truth behind that story about his legal action against
James Cameron
!
DRAG ME TO HELL
Sam Raimi's
dipped his toes into the horror pool again! We talk to Raimi's second-in-command
Rob Tapert
about the
Evil Dead
director's return to old school horror.

KROD MANDOON
It's the new fantasy comedy starring
Matt Lucas
! We talk to creators
Peter Knight
and
Brad Johnson
.

BRITISH SCI-FI NOVELS
We run down the ten most influential novels in British science fiction - how many have you read?
CHINA MIEVILLE
The New Weird novelist talks to us about his latest book, The City & The City.
HEROES AND INSPIRATIONS
Jeff Wayne
explains what spurred him on in creating the musical version of
War Of The Worlds
.

COUCH POTATO
Holodeck episodes of
Star Trek
- an ingenious way to add variety to the show or just a bit rubbish? The Couch Crew examines the evidence!
REWIND
It could have been one of the best sci-fi series ever to grace the BBC, but it was not to be. We look back on the one-season wonder
Star Cops
.

TIME MACHINE
Following on from last issue's retrospective on a radio show, this issue's Time Machine looks back on
Gary Numan's
classic concept album Replicas.
PROFILES
Patricia Arquette
talks about the new season of
Medium
,
Laila Rouass
tells all about being the new kid on the block in
Primeval
, and
Kate Griffin
(aka Catherine Webb) explains why London is an endless source of inspiration to her.

BOOK CLUB
A more recent title than most of our Book Club choices, but it's a good one nonetheless - Jeff Noon's Vurt.
WISHLIST
Where next for
James Bond
? You gave us your ideas!

SPOILER ZONE
We've got the final episodes of
Pushing Daisies
and
Battlestar Galactica
and the season premieres of Reaper and Primeval, as well as the return of
Saving Grace
and ongoing coverage of
Dollhouse
,
The Sarah Connor Chronicles
and
Heroes
!
All this and lots more...