At the
Los Angeles Times
(Los Angeles, CA):
(Please follow the link for the complete article.)
'MacGyver's' pop cultural hold on us
There's a universal appeal in being able to bust out of jail with nothing but chewing gum and wire.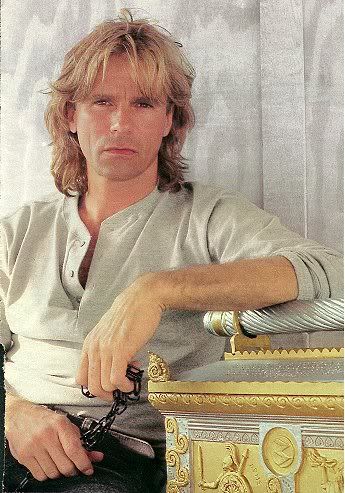 Richard Dean Anderson from the made-for-TV movie,

MacGyver: Lost Treasure of Atlantis
May 16, 2010
When Josh and Ada Cottrell were expecting their first child four years ago, they wanted to give their son a name that embodied their beliefs and stood for something attainable. They wanted their little guy to be known not so much as a dreamer but a doer.
So the Sherman Oaks couple named their son …
Macgyver
.
"We got a lot of flak for it," Ada says. "People would tell us, 'You're setting him up to fail.' But my husband is a 'MacGyver.' And if he's going to be anything like his daddy, which I'm sure he is, he's going to be the kind of guy who can put together a sink with a paper clip and some chewing gum and 'MacGyver' it, so it'll work."
With the "
MacGyver
" spoof "
MacGruber
" arriving in theaters Friday — and with movies, TV shows and advertisements continuing to namedrop the '80s adventure series — "
MacGyver
" is enjoying something of a pop culture renaissance. But that would imply that the show, which ended its seven-year network run in 1992, went away in the first place. And it never did.
"
MacGyver
" followed the exploits of mullet-sporting secret agent Angus MacGyver, a troubleshooter dedicated to using scientific principles (along with a lot of duct tape and his trusty Swiss Army knife) in weekly campaigns against drug lords, dictators and communists. The ABC show established its template with its pilot episode in which MacGyver, among other feats, disarmed a missile with a paper clip, stopped a sulfuric acid leak with a chocolate bar and fashioned an explosive using sodium metal and a cold capsule.
"We verified the viability of the science, but we often stretched the principles," chuckles "MacGyver" star

Richard Dean Anderson

who has been playing another hero in Syfy's "

Stargate

" franchise for much of the past decade. "That chocolate would have sealed the leak in the sulfuric acid vat. We just would have needed a half-ton of chocolate to make it work..."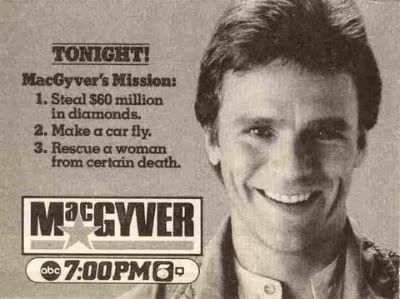 <<**>><<**>>
At
Amazon
: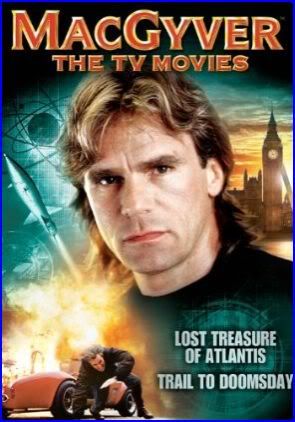 MacGyver: The TV Movies
Series: MacGyver Rating: NR (Not Rated) | Format: DVD
List Price: $19.99
Price: $14.49 & eligible for free shipping with Amazon Prime
You Save: $5.50 (28%)
This title will be released on June 15, 2010. Pre-order now!
<*><*><*>
Included on this DVD are:
MacGyver: Lost Treasure of Atlantis
- made for TV May 1994
MacGyver returns as the wily adventurer, this time teamed with an eccentric archaeologist and a young female scholar in a quest for legendary loot from the lost city of Atlantis.
Starring:
Richard Dean Anderson
,
Brian Blessed
,
Sophie Ward
,
Christian Burgess
,
Oliver Ford Davies
and
Tim Woodward
.
Directed by
Michael Vejar
and written by
John Sheppard
.
AND
MacGyver: Trail to Doomsday
- made for TV November 1994 (Note: during the broadcast of this movie on November 24, 1994, a movie trailer for the feature film Stargate was aired.
Richard Dean Anderson
went on to play Col. Jack O'Neill in
Stargate SG1
on TV.)
In MacGyver's next adventure, he travels to England to celebrate his friend's birthday, only to witness instead his friend's death. An investigation reveals that the murder is linked to mysterious interests seeking to develop nuclear weapons.
Starring:
Richard Dean Anderson
,
Beatie Edney
,
Peter Egan
,
Alun Armstrong
,
Bob Sherman
and
Lena Headey
.
Directed by
Charles Correll
and written by
John Considine
.
Many thanks to the

Richard Dean Anderson Official Web site

for the movie synopses and the photo from

MacGyver: Lost Treasure of Atlantis

.