At
Attention Deficit Delirium
blog:
(Please follow the link for the complete interview.)
Amanda Tapping Still Craves The Stage
by
Bryan Reesman
on May.14, 2010
At the Syfy Channel Upfront in March, I chatted up
Sanctuary
star
Amanda Tapping
for a story about Season 3 that will appear on AOL's TV Squad page in the near future. (FYI, Season 2 arrives on video on June 15, 2010.) I also managed to squeeze in a little bit about
Stargate
and her non-
Sanctuary
projects.
Here's a short 'n' sweet Q&A about topics unrelated to her hit show. It is laced with the actress' usual humility and humor. Simply put,
Tapping
is über-cool.
A brief excerpt:
You've done plenty of things outside of sci-fi. Are there any performances that you think are underrated in your career?
You know what? I feel like my career has progressed slow and steady. Things that I thought were really good back in the day, maybe not so much [now]. I look back at my work and think there's a certain subconsciousness to it. So no, I don't think so. There's a movie I did called

Dancing Trees

, which I just thought was a really sweet film. I love the director so much. I don't have a big part in it, and I die — well, I must say. That's a good question. Damn!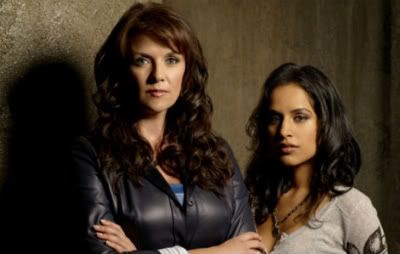 Amanda Tapping and Agam Darshi