At
TV Guide Online
:
(Please follow the link for the complete interview.)
Supernatural's

Mark Pellegrino

: Fans Will Be Satisfied with the Finale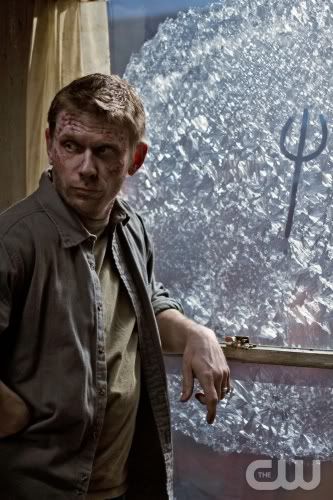 Mark Pellegrino as Lucifer from

Supernatural's

'Swan Song.'
May 12, 2010
by
Natalie Abrams
It's the moment
Supernatural
fans have been waiting for all season: Lucifer (
Mark Pellegrino
) is about to throw down with pretty much everyone. TVGuide.com caught up with
Pellegrino
, who says Lucifer is quite the sympathetic character. (Um, what about that whole wanting to destroy all of mankind thing?) The 45-year-old actor also gave us the details on Lucifer's journey to the apocalypse as well as the similarities between Lucifer and his character on
Lost
, Jacob.
A brief excerpt:
TVGuide.com: Everything has been leading up to the showdown between Michael and Lucifer. What has the journey been like for Lucifer?
Mark Pellegrino: It's been interesting because I go from a broken-hearted, blue-collar guy to a being that is far more powerful than even I thought. I never expected in a million years that Lucifer would be killing off pagan gods like they were nothing. [Laughs] I didn't know I was that powerful. He's on a mission, single-mindedly pursuing a goal and perhaps he'll achieve it.